Contact Information
Chair: Cristina Ruotolo
Associate Chair: Dane Johnson
Academic Program Office Coordinator: Seth Chabay
Academic Office Coordinator: Heather Sawyer
Graduate and Undergraduate Coordinator, CWL: Dane Johnson
Graduate Coordinator, HUM: David Peña-Guzmán
Undergraduate Coordinator, HUM and AMST: Cristina Ruotolo
Office Hours:
Tuesday – Thursday, 10 a.m. - 5 p.m.
Comparative World Literature:
Email: wclit@sfsu.edu
Phone: (415) 338-2068
Fax: (415) 338-2664
Humanities/American Studies:
Email: hum@sfsu.edu
Phone: (415) 338-2068
Address:
Department of Humanities and Comparative World Literature
San Francisco State University
1600 Holloway Avenue
Humanities, Room 377
San Francisco, CA 94132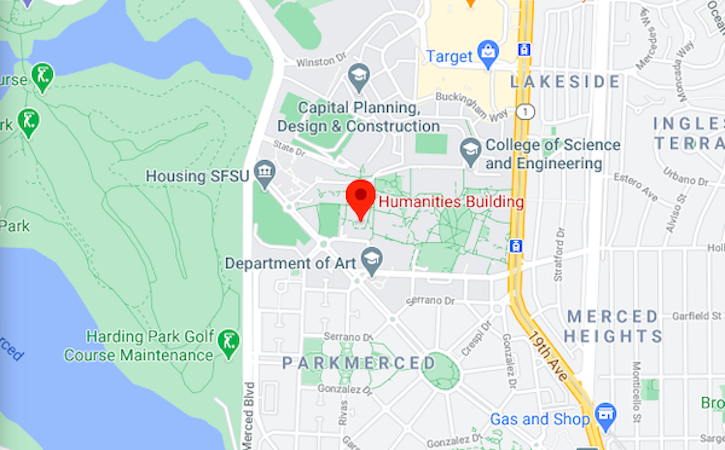 Transportation and Parking
San Francisco State University is readily accessible by public transportation from all parts of the Bay Area.
For general information, please visit the SF State Parking and Transportation website.